From small side tables to huge mahogany Victorian desks; tiny cabinets to massive dressers; antlers to grandfather clocks - we have it all... (...and if we don't have it, we'll find it for you!)
Now online only. Previously situated on Streatham High Road, St. Reatham Antiques opened it's doors in the spring of 2015. The shop is a family owned business headed by Stuart Watson, who has 35 years of experience with auctions, antiques and fine art. St. Reatham Antiques is Stuart's seventh shop.
Despite being only a year old, St. Reatham Antiques was nominated in 2016 for the BEST INDEPENDENT SHOP and GREENEST SHOP awards (by the Streatham Business Awards). The shop has also received fantastic on-line customer reviews, such as:
"What service. I love spending my money with people who care. "
Courtesy of Yell.com
St. Reatham Antiques is proud to offer the following services:
Valuations
Delivery
Removals
Probates
Relocations
House Clearance
We are dedicated to re-using and recycling items for a GREENER future.
If you would be interested in any of our services, do drop us a line. You can find all of our contact details here>>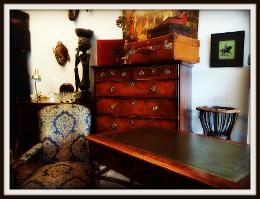 OPENING TIMES:
Monday: 10.00 - 17.00
Tuesday: 10.00 - 17.00
Wednesday: 10.00 - 17.00
Thursday: 10.00 - 17.00
Friday: 10.00 - 17.00
Saturday: 10.00 - 17.00
Sunday: 10.00 - 16.00